My second semester of nursing school begins in just a few days, and I'm thinking about all of the things I learned last semester. It's one thing to learn the skills, like tracheal suctioning and subQ injections, and an entirely different thing to learn the critical thinking, the how and why and what can I do. I felt pretty confident going in, but by the time I stepped out of the skills lab and onto the hospital floor I felt anything but. Though I never reached a point when I felt like I knew exactly what I was doing in every situation, I learned to recognize my strengths and ask for help with my weaknesses.
I'm not jumping up and down with joy at the thought of this coming semester, probably because I'm still pretty tired from the last one. But I do feel like I can go into this one with a little more clarity and hopefully a lot more humility. This semester I'm enrolled in mental health, med surg, and research. I felt a little
meh
about mental health until I received the syllabus, and now I think it might be my favorite class. I hope! The following list contains a few things my first semester of nursing school taught me (humor included).
1. There's no such thing as too many highlighters.
2. Failing to read every chapter of that massive textbook is OK. Better to understand the big picture than to swamp your mind with too many details at first.
3. NCLEX-style questions really
are
different! Learning how to answer them correctly equals answering test questions correctly.
4. Clinical is about the patient,
not
you.
5. You learn more about nursing from your patients than from your instructors.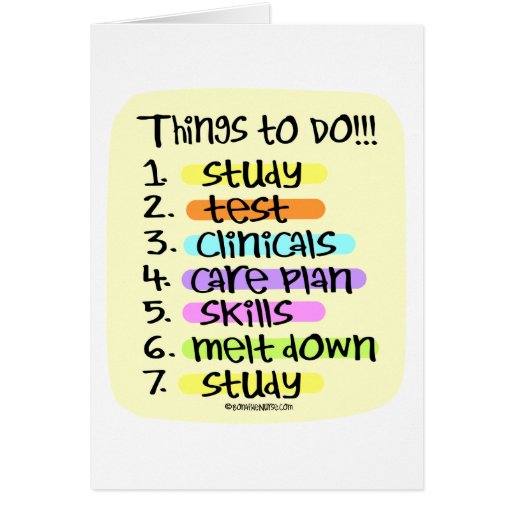 6. Respect the uniform. Patients and visitors think you know things, like how to get the IV pump to stop beeping (second semester skill) and where the cafeteria is located.
7. Select all that apply questions are possibly weapons of mass nursing student destruction.
8.
You
can
have a life during nursing school as long as you make the time for one.
9. What happens at clinical stays at clinical. Protect your patients' privacy. (Think HIPAA.)
10. Nursing school is hard and sometimes frustrating, but the patients are wonderful and the ability to do even a little something to make them feel better makes up for it.
I'll end with this comic strip, because I'm positive this is how I am now around family and friends.